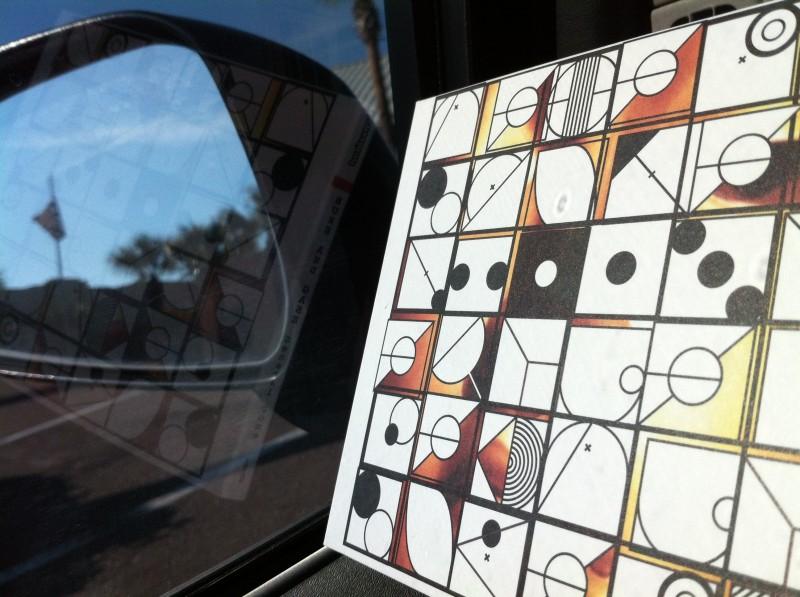 After much deliberation, Spinnaker Radio is proud to present the Top 10 Albums of 2013 (as of July) that have most impressed us this year. It wasn't an easy decision to make by any means: some honorable mentions failed to make the cut (Daft Punk, Front Bottoms, Charli XCX, Disclosure, Savages), but these lucky few have touched our hearts and minds (and playlists) more than any other albums in 2013.
Frightened Rabbit – Pedestrian Verse
A bit more lyric-heavy than their past work, Frightened Rabbit still creates a consistently profound, relatable album with catchy hooks and choruses from beginning to end in Pedestrian Verse. Topics range from being a douchebag at a house party ("Acts of Man") to a story of a verbally and physically abused woman finding solace in suicide ("State Hospital") to getting "happy" on nitrous gas (aptly titled "Nitrous Gas"). The Scottish twang in lead singer Scott Hutchison's voice adds to the gravity of his words and the band's primarily, but not limited to, folk rock sound.
Recommended: "The Woodpile" & "Nitrous Gas"
James Blake – Overgrown
James Blake has certainly outdone himself this time. Coming back with an even more mature sound for the 24-year-old British singer, Overgrown brilliantly combines elements of dubstep, soul and R&B while showcasing his velvety vocals to create a groovy, stirring album that makes you want to move and/or cry, depending on your current mood. Every track is worthy of praise, in my opinion. Long live King Blake.
Recommended: "Take a Fall For Me (feat. the RZA)" & "To the Last"
Vampire Weekend – Modern Vampires of the City
Where their self-titled was endearing and catchy and their second LP Contra was bold and a little listless, Modern Vampires of the City has Ezra Koenig and company crafting an almost transcendent album destined to be a crossover hit. The references to literature and fine art are more relevant to the tunes (and even sometimes more abstract) than in previous albums, the cooing and crooning about love and malaise more heartfelt, and the instrumentation itself—infused with occasional electronic tinge—is as ambitious and daunting as Vampire Weekend has ever been. Modern Vampires of the City is easily Vampire Weekend's most inviting work to date.
Recommended cuts: "Diane Young" and "Unbelievers"
Parquet Courts – Light Up Gold
Parquet Courts are a relatively new band out of New York by way of Austin, Texas. If Southern Punk existed—and mattered—and found its way to New York City—it would be embodied no better than by these songs. It has malaise, it has anger, it has apathy: jilted romance, crazy guitars, erratic drums, ragged vocals, and all with a picture of a bull rider on the front. Not only that, but this thing's catchy as hell. Brown and Andrew Savage are not average post-punk angry-heads however, and instead live hazily: potheads without an agenda or escapist dream. They only want to shred and howl in basement venues and eat Swedish Fish.
Recommended cuts: "Borrowed Time" and "Stoned and Starving"
Local Natives – Hummingbird
The period following the release of Local Natives' debut Gorilla Manor was marred by the departure of bassist Andy Hamm and the passing of vocalist Kelcey Ayer's mother, all while the group was riding a wave of success unseen by most West Coast indie acts. To help the band move past this turbulence, they enlisted The National's Aaron Dessner to produce their sophomore effort Hummingbird, a move that wrung every bit of emotion out of a group already praised for its ability to turn anxiety and memory into longing but reverent harmonic anthems. From soaring opener "You and I" to electro-rock closer "Bowery", Local Natives place themselves on the same path that The National took to worldwide recognition while also making their own lane for other bands to follow.
Recommended cuts: "Heavy Feet" and "Breakers"
Waxahatchee – Cerulean Salt
During 2013's first installment of ArtWalk, Downtown Jax mainstay Burro Bar hosted a slate of artists ostensibly highlighted by local genre benders Antique Animals. Buried in that night's lineup was a set from Katie Crutchfield, the Alabama-born muse behind lo-fi project Waxahatchee. In the months following her under-hyped Jacksonville tour stop, Crutchfield has seen her profile rise, and with good reason. The songs on Cerulean Salt recall the simplicity of 1990s "college rock," while adding powerfully personal layers of bitterness and malaise that have the power to connect no matter the decade. To prove this point, Lena Dunham, the divisive creator of HBO's Girls recently tweeted: "I would have loved Waxahatchee when I was 13 and I also love her now". You and me both, Lena.
Recommended cuts: "Coast to Coast" and "Peace and Quiet"
John Roberts – Fences
In 2010, Ohio-born producer, John Roberts delivered his grand entrance into the house scene with his excellent debut album, Glass Eights. This album established his sound with a cohesive and elegant blend of deep house. On his sophomore album, Fences, Roberts surprises us with a slightly different sound that focuses on organic and unique instrumentation, while still able to preserve his classic house roots. In recent interviews, John Roberts explains that Fences is influenced by travel and his journeys around the world. He achieves his unique eastern tone with a loop of plucked strings, choppy drum samples, field recordings, and textured piano riffs. While Glass Eights evokes a sense of fantasy, Fences provides the listener with a collection of memories and experience.
Recommended cuts: "Fences" and "Shoes"
Cosmin TRG – Gordian
Cosmin TRG (a.k.a. Cosmin Nicolae) takes a much more settle and minimalistic approach on techno in his newest LP, Gordian. The Romanian-born producer is recognized for his bold statements in tech-house while deriving the classic Detroit and Chicago influence. On Gordian, the tracks are loose and intertwined rather than relying on a structured techno beat as he is used to producing. Nicolae uses delicate synths and shuffling drums to create intricate strains which give the listener a calming environment. Although, hard to find a formal club track, Gordian subtly provides the familiar melodic builds and thick chords which makes for a delightful listen.
Recommended cuts: "Divided By Design" and "New Structures For Loving"
The Knife – Shaking the Habitual
If it were merely a demonstration of intrepidness and nothing else, Shaking the Habitual would utterly fail as an album. Fortunately, every drum barrage, every torrid synth line, and every haunting echo manage to imbue the record's spacious corridors with such theatric tension that even the lengthier ambient segments shimmer in the limbo between control and chaos. The latest iteration from Swedish duo The Knife since 2006's Silent Shout, Shaking the Habitual manages to forge a tenuous connection between the feral rhythms of the duo's last album and the abstract ambience on Tomorrow, in a Year (the duo's 2010 collaboration with Mt. Sims and Planningtorock). The album treads tumultuous new terrain for a group that has never derived satisfaction from dawdling in comfort zones.
Recommended cuts: "A Tooth For An Eye" and "Full of Fire"
Autre Ne Veut – Anxiety
The reclusive Arthur Ashin spent much time dabbling in making the sentimental ambience of his college roommate Daniel Lopatin (Oneohtrix Point Never) before forming Autre Ne Veut. While his new pop-leaning approach is almost entirely different from Oneohtrix Point Never's experimental approach, the evocation of emotion is paramount to both styles of music. Even as Anxiety's songwriting strives for pop and R&B finesse, the vestiges of his experimentally-minded past impart a kaleidoscopic richness to the album. With Autre Ne Veut, Ashin's soul-tinged vocal acrobatics seem to bear the weight of the world on their shoulders. The vividness of it all casts the album's rather stark story of despair and agoraphobia in a rapturous brilliance. No sound on Anxiety is wasted in channeling Ashin's most sincere feelings, no matter how bleak they may seem.
Recommended cuts: "Counting" and "Ego Free Sex Free"
Honorable Mentions:
Daft Punk – Random Access Memories
Kanye West – Yeezus
Buke & Gase – General Dome
Phoenix – Entertainment
SAINT PEPSI – Hit Vibes
Disclosure – Settle
Savages – Silence Yourself
Daughter – If You Leave
Deafheaven – Sunbather
These New Puritans – Field of Reeds
Nick Cave & The Bad Seeds – Push The Sky Away
Thee Oh Sees – Floating Coffin
Dutch Uncles – Out of Touch in The Wild
No Joy – Wait to Pleasure
Charli XCX – True Romance
Front Bottoms – Talon of The Hawk
Flaming Lips – The Terror
Wavves – Afraid of Heights
Superhuman Happiness – Hands
Kavinsky – OutRun
Devendra Banhart – Mala
Youth Lagoon – Wondrous Bughouse
Foxygen – We Are the 21st Century Ambassadors of Peace & Magic
Contributions to this list are from the staff, including Lizzie Russo, Mason McGough, Nadia Khan, and Jacob Rodriguez. Special thanks to Kevin Brown for assisting with this article.