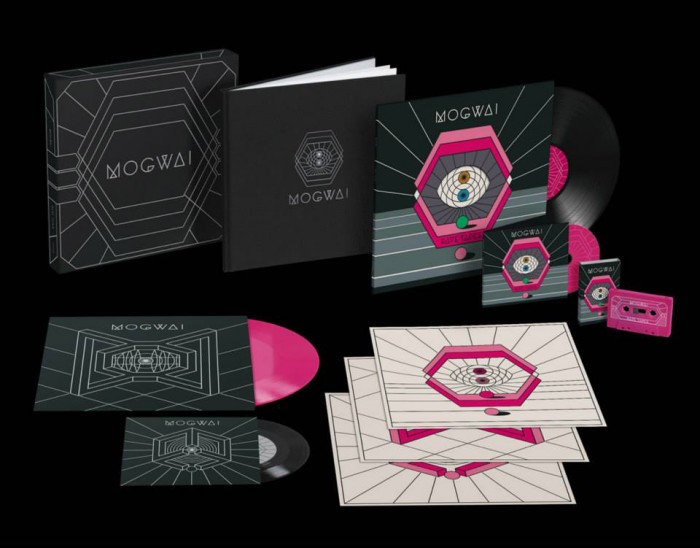 The late 90s second wave of post-rock is a genre known for lengthy, purely instrumental songs that make extensive use of distorted guitar. The typical post rock piece is a 10 to 20 minute squall of wailing guitars that evoke the sensation of being trapped in a burning house in the middle of a tornado. It is, put simply, music for the end of the world.
One of the leading lights of this movement, the mischievous Glasgow, Scotland band Mogwai, were less concerned with awing their audience into catharsis, and more with flustering them by throwing a switch from soft to way too loud at the least expected moment. On their 1997 debut Young Team, they demonstrate this attitude perfectly with the song "Like Herod." It begins quietly, with soothing yet somehow unsettling bass lulling the listener into lowering their guard, and at just the right moment the hammer of guitar startles them awake and knocks them out of the chair.
Since then, Mogwai have released six more albums of varying quality and several EPs and soundtracks, most recently for the French TV drama Les Revenants (The Returned). Their newest, the follow-up to 2011's awesomely-titled Hardcore Will Never Die, But You Will, is called Rave Tapes, and only one word is needed to distinguish it from the rest of the band's body of work: synths.
For a group that has used the guitar as its primary weapon for so long, such a change can be jarring. But, Mogwai pull it off with impressive tact, effortlessly infusing their new tools into their unique brand of post-rock. On songs like "Simon Ferocious," they complement Stuart Braithwaite's savage guitar and Dominic Aitchison's steady bass extremely well. On "Remurdered," synths take more of a focus, yet still contain the menacing factor of the band's best work.
Like Boards of Canada's 2013 album Tomorrow's Harvest, Rave Tapes evokes the dystopian film soundtracks of the 1970s. The tone of unease here would work as the soundtrack to a dystopian society with a terrified citizenry and pervasive, disturbing issues. While the band does find time to return to their guitar rock roots on songs like "Hexon Bogon" and "Master Card," synthesizers do eventually enter as accompaniment.
Although never a focus, vocals do appear in various forms on three songs. "Repelish" uses a sample of a conspiracy theorist's exploration of hidden messages in "Stairway to Heaven," leading to a sinister repeated slogan: "Satan… you gotta live for Satan." Mogwai established on Young Team that they fear Satan, so it's nice to see that they maintain that wary fascination years later. "Blues Hour" contains the requisite once-per-album Stuart Braithwaite vocal performance, and as always the bassist's gentle crooning works wonders. Lastly, closing track "The Lord is Out of Control" features a computerized voice achieved with a vocoder.
The album's crowning triumph comes at its very beginning on "Heard About You Last Night," where calming chimes mingle with unwavering guitar and drums, leading to a chorus made up of a long-held synth line. It sounds like something that would play after the passing of a devastating storm, where the wind still blows with malice yet causes no harm. Not since their debut have the band created such stirring imagery. While nothing will match the heights of Young Team, Rave Tapes, with all its synthetic experimentation, provides the most interesting music Mogwai have made since.
"Remurdered":