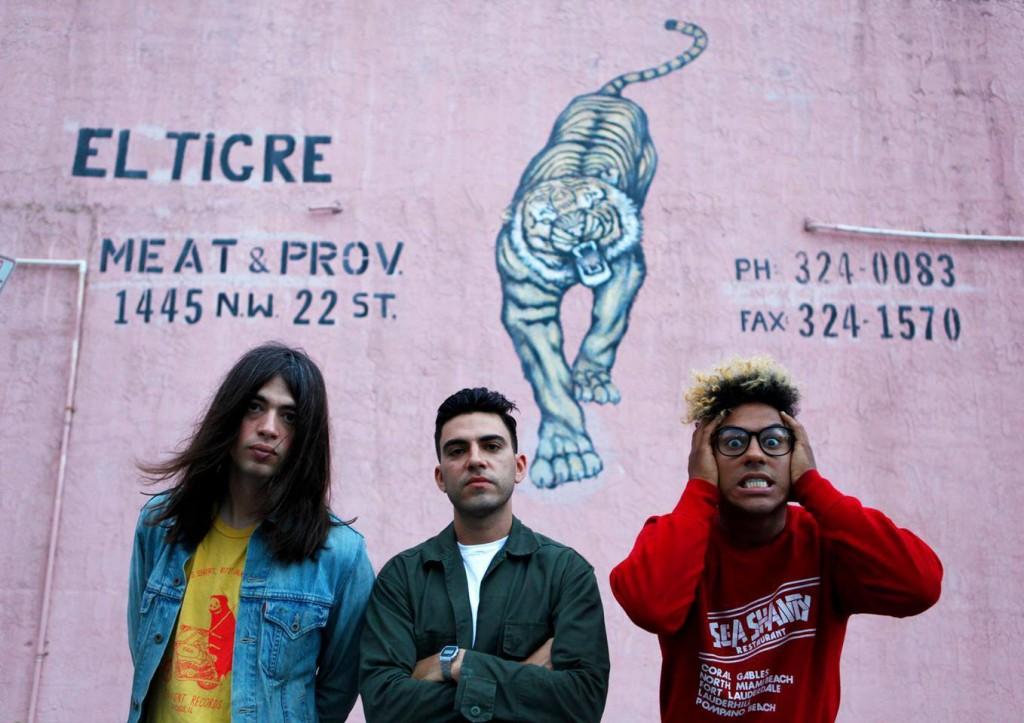 Iggy Pop called the Jacuzzi Boys a band with "a stupid name, but they've got great spirit." The Miami-bred rock n' roll trio brought their great spirit to Underbelly on May 27. It was opener Queen Beef's last show and the room was buzzing with their fans' excitement all night. As soon as Jacuzzi Boys came on stage, lead singer/guitarist Gabriel Alcala's voice roused a mosh pit from the crowd. Alcala was on guitar and vocals, Danny Gonzalez played bass guitar, and Diego Monasterios took command of everything else–drums, violin, guitar, back-up vocals, and more. For the entire set, everyone dealt with jutting elbows and kicks, but no one seemed to mind too much. Instead, they bobbed their hands and sang along to the fuzzy sounds off the band's recent self-titled album and Glazin'.
Around 1 a.m. after the show, Spinnaker Radio sat down with the band on the sidewalk across from the venue, set our iPhones to record, and let the conversation flow.
Turns out Jacuzzi Boys are some pretty cool dudes who stay true to their home city Miami, and just have a lot of fun playing for different people every night.
Spinnaker Radio: You guys basically play everything, huh?
Danny: Yeah, we're trained musicians.
SR: Where did you go to school?
Danny: Yeah, we graduated from Berkley
Diego: We actually graduated from Harvard.
SR: No you didn't. Did you really?
Diego: Can't you tell?
Gabriel: I dropped out because it was too easy.
SR: Why did you decide to start a band?
Danny: Because we had nothing else to do.
Diego: There was no mentality, we just wanted to. We didn't know how to play anything. We were like 'Ay, do you want to get a guitar? Do you want to get a drum set? Let's do it."
Gabriel: Basically I worked at Eckerds and didn't have a job anymore. I remember saying this when we had our first 7-inch come out, 'if we get one 7-inch, then we're perfect, that's it.' At least there's like — if I die than at least it's something that we did.
Diego: That would've been cool, right? If we died right there, but we didn't.
SR: I mean I'm glad you're not dead.
Gabriel: Thanks.
SR: How do you feel about Iggy Pop giving you praise?
Gabriel: He's okay. He's kind of boring.
Diego: How would you feel? He's the boss.
Gabriel: I have a lot of rock n' roll heroes, but if I can pick the highest hero then it's Iggy Pop. When we play, we think about him all the time.
SR: When you heard Iggy recognized your band, what was your reaction to that?
Gabriel: We hung out with him at his house and I think I peed my pants.
SR: What does that make you think about life?
Diego: My life just warped.
Gabriel: To be honest, meeting him–the best hero ever. We didn't think it would happen. He was at our show and he just dug it. It was the best feeling.
SR: What made you guys special enough?
Gabriel: He dug it. He was at a show and he was dancing and I don't know.
Diego: We were just playing, not trying to do anything special and he just dug it.
Gabriel: It was very surreal, like this guy that we love f—— digs us, and that's it.
SR: Very cool. So, how was the Jax show?
Danny: Much better than the first time we came here.
Gabriel: Yeah, we played here before in like 2009 with this band from Puerto Rico called Davila 666 at Jack Rabbits. We basically just played to each other.
[Van starts to go off in the background.]
Diego: Get it, pop pop.
SR: Oh, is that your van?
[No one cares.]
SR: How do you feel about the uncertainty of life?
Diego: She's killing it. I love those questions.
Gabriel: I'm on that tip. The uncertainty of life; I'm scared of death and that's why we play.
Diego: I'm not afraid of death, I'm just afraid of it hurting my head.
Gabriel: He's not afraid of death, there's no afterlife. He's not afraid of dying at all and I'm f—— terrified of dying.
Diego: You remember being unborn, and now you're born. So that's what's going to happen when you die.
SR: How do you guys write songs together?
Gabriel: We just meet in one room and see what works.
SR: What are the majority of your songs are about?
Gabriel: Sex & fruits.
Daniel: And dessert.
Diego: And animals.
SR: That sounds like fun. How do you guys set goals as a band?
Gabriel: It's very near-future kind of stuff.
Daniel: We never set goals.
Diego: I never shoot like five years ahead. I always go a month tops.
Gabriel: The goal is to have fun. Are we having fun? Yes, we're having fun.
SR: Why gravitate towards the garage rock genre?
Gabriel: It's not garage rock. It's rock n' roll.
SR: Why that?
Diego: It's all we knew how to do. What do you want me to play? Like, Rush?
SR: No. [laughs]
Gabriel: When we went to high school, we listened to hip hop.
Daniel: We were going to be a hip hop group first.
Diego: Danny's rhymes were on point.
Gabriel: Me and him were gonna rap. That's why we're called Jacuzzi Boys. You know, Peaches & Cream was like a big influence for him. He would just sing the hooks and f—— kill it.
SR: Does press change the way you guys make music?
Diego: What press?
Daniel: No, we never cater our songs to anything, we just do it.
Gabriel: No, look. The thing is I don't give a f— about any of that s—, we don't.
SR: A big thing for you guys is the live show, like the energy and everything. As far as either live show or writing material, what is maybe the biggest influence you have (besides Iggy Pop.)
[Van goes off again.]
Diego: New York Dolls!
Gabriel: Buzzcocks.
Daniel: There's so much, man.
Gabriel: The thing is, like we, but like it's kind of weird I'm going to maybe f— this statement up. But look, it's this. We have influences like where we want to write songs like the Buzzcocks or the New York Dolls or the stooges or all that kind of s—, but we listen to that, but when we're in the band we listen to f—— country or Too Short. We don't listen to stuff that….
SR: So it's not like Guided By Voices where you're like 'We've got to be The Who'.
Daniel: Oh I like Guided By Voices better than The Who.
Gabriel: I don't know if we've ever said this in an interview, but a song we wrote called 'Island Avenue' is inspired by Guided By Voices.
SR: We love Guided By Voices.
Gabriel: It was basically like we were trying to practice and come up with a song. Then Danny puts on this Guided By Voices documentary, with Robert Pollard driving around and seeing signs and just writing songs and combining words. Danny had this photograph that he took and it was a street sign that said Island Avenue and we wrote a song about it. It's kind of weird because the song has dirty f—— lyrics as if it were skid row, but Island Avenue is like . . . . On that street, there's like a spa.
Diego: It's like a f—— awesome street that takes you to South Beach. It's not bad.
SR: Is this in Miami?
Diego: It's in between downtown.
SR: How do you guys feel about the Miami music scene?
Daniel: We feel it hard.
SR: One last very important question. Favorite pizza topping, one each…
Gabriel: Pepperoni and Pineapple
Daniel: It's ham & pineapple first of all.
Diego: Mine is Hawaiian.
The interview has been edited only for length and clarity. You can catch the Jacuzzi Boys on Spinnaker Radio.